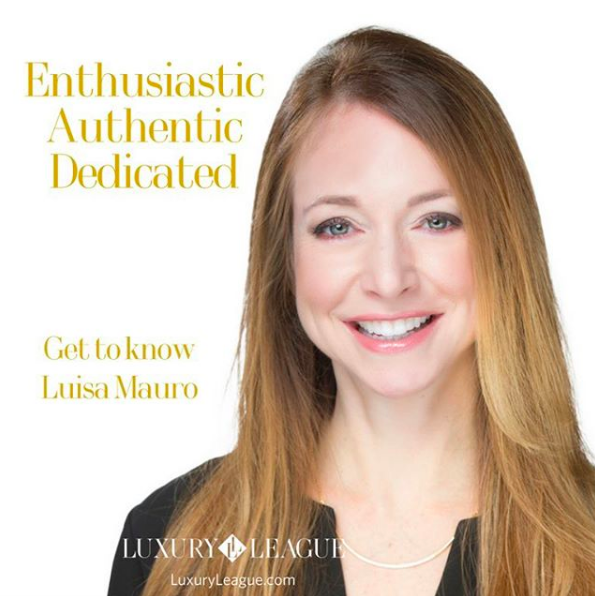 Luisa Mauro's Italian family instilled in her the belief that owning property is the ultimate investment.
Memories of her Sicilian grandparents growing produce on their own land, coupled with a keen eye for quality real estate, motivated Luisa to obtain her real estate license in 2002. Since becoming a broker in 2006, she and her family have brought that sense of investment pride to the real estate community, buying and selling rental properties, purchasing a commercial office building and providing property management for their real estate.
Since entering the world of real estate, Luisa has become deeply involved in the industry, earning her Certified Negotiation Expert designation, making her one of the few negotiation agents recognized by the National Association of Realtors. She has also earned NAR's Green Designation and is committed to the future of the real estate industry and planet. Luisa receives ongoing education about green materials, energy efficient technology, green ratings, green design, green incentives and green living.
The Certified Luxury Home Marketing Specialist designation is recognized as the mark of accomplishment in luxury markets around the world; the CLHMS designation assures affluent buyers and sellers that the agents who have earned it have the knowledge, experience, competence and confidence they require. Luisa has earned the CLHMS designation each year since 2010 and has also been awarded membership within the Million Dollar Guild® in recognition of her knowledge, experience and expertise in the luxury home arena. Members of the GUILD® are specialists whom have proven success in the million dollar and above market. Also, Luisa has been honored six years in a row (2012-2017) to be one of the recognized Platinum Top 50 Agents and consistently ranks as one of the top agents in sales by the Austin Business Journal.
To view testimonials from Luisa's clients, please visit:
http://www.zillow.com/profile/LuisaSellsAustin/Reviews/
To view Luisa's listings and contact information click here.