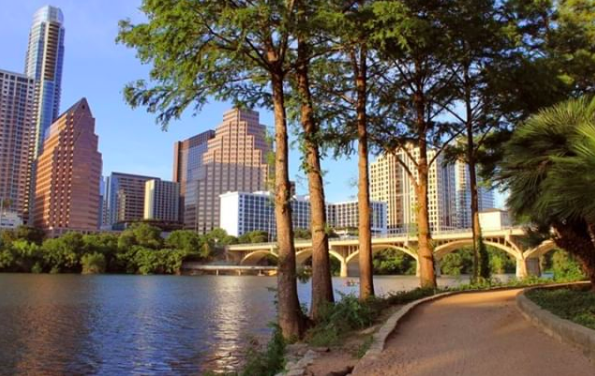 With summer temperatures almost year-round, Austin, Texas, offers plenty of outdoor entertainment in and around the city. From hiking to swimming to biking, our members shared with us some of their favorite outdoor activities in and around Austin.
Lake Austin is the perfect place to spend your weekends this summer. Don't have a boat? There are plenty of other options: you can schedule a boat tour, choose one of the many boat rental companies, or practice a multitude of water sports.
Ranging from beginner to expert fitness level, tons of hiking trails can be found in the midst of shady trees and hidden waterfalls. Walk, run or hike the many paths to enjoy all the beautiful scenery the city of Austin has to offer.
This protected nature preserve is a must see. Creating a 50-foot waterfall, the beautiful limestone overhang will take your breath away and provide you with the perfect place to cool off. Reservations are required, so be sure to secure your spot ahead of time.
One of the top hiking trails in Texas, the Barton Creek Greenbelt has much to offer. Enjoy swimming holes, climb limestone cliffs, or mountain bike over 12 miles of trails. Don't leave your furry friend at home, because the Greenbelt is dog-friendly!
Also known as "Lady Bird Lake," Town Lake provides beautiful scenery and lakeside paths in close proximity to downtown. Whether you choose to go for an early morning run or take your whole family for an afternoon stroll, enjoy one of Austin's most popular attractions.
Glide through the water while kneeling or standing on your paddleboard. Getting the hang of it is easier than it looks, so grab your friends and have fun. With a lack of motor boats, Lady Bird Lake provides the perfect destination for paddle boarding.
We hope you enjoy these six outdoor activities this summer! Be sure to check out our members' available listings here.