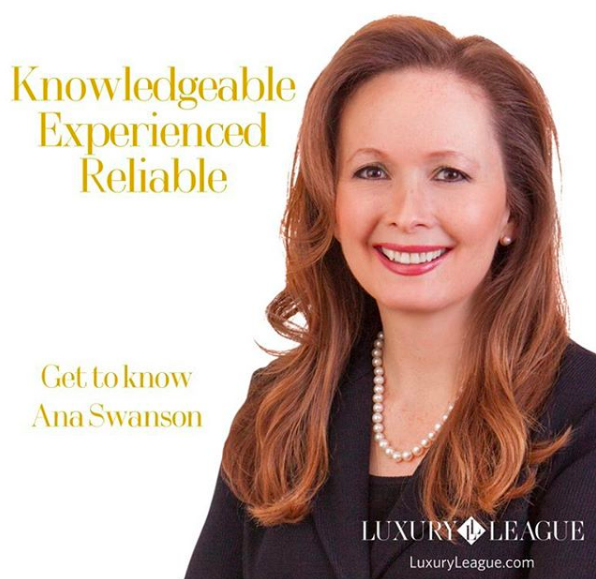 Ana Swanson has pursued a career in residential sales for over 26 years. She was born to U.S. citizens living in Guatemala where she was educated at the American School until her family moved to Houston in 1980. She began training as a Realtor in 1991, was licensed in 1993, and was recognized as a Top Producer and Multimillion Dollar agent within two years of obtaining her license. Specializing in New Construction and Luxury Homes, Ana and her husband John moved their family to Austin in 2012 and formed Ana Luxury Homes. Ana is an Accredited Luxury Home Specialist, Accredited Buyer Representative, a Broker, Certified Luxury Home Marketing Specialist, and a Certified Home Marketing Specialist. She is a member of the Executive Club, Hall of Fame, Master Sales Society, Platinum Club and 100% Club. She is very proud of her recent selection as a member of the prestigious Austin Luxury League. Being linguistically and culturally fluent in Spanish, Ana possesses unique skills, which serve her well in Austin's diverse society.
Since relocating her company to Austin, Ana has closed over $75,000,000 in sales. Ana's company specializes in representing Buyers and Sellers selling/purchasing luxury real estate in Austin's finest neighborhoods and throughout Central Texas.
Ana Luxury Homes now has 7 like-minded and passionate professionals with strengths including:
• Anticipating and assessing a Client's needs and providing professional service with a great attention to detail.
• Excelling at networking and marketing.
• Negotiating with current knowledge of local market trends, current financial conditions, and an understanding of emotional triggers present in buyers and sellers.
• Tapping into a huge client-referral base to find Buyers for our listings and homes for our Buyers.
These strengths and Ana's keen market knowledge and innovative marketing strategies make Ana Luxury Homes one of Texas's premier Real Estate companies.
To view Ana's listings and contact information click here.