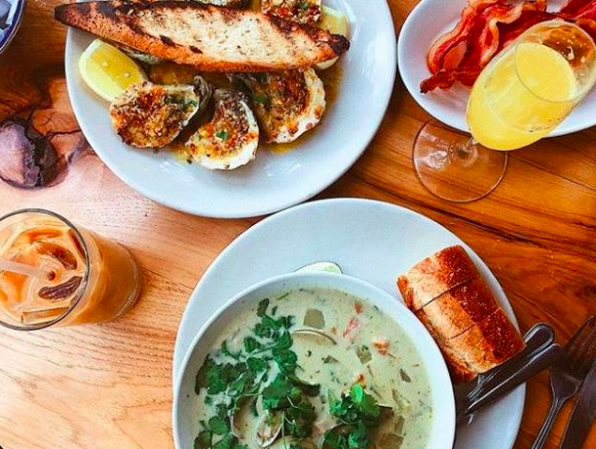 A mid-morning brunch is never disappointing in Austin. From coffee and pancakes to cocktails and burgers, the options are endless (and delicious). We asked our members to share with us some of their favorite brunch spots in Austin.
Opened in 1975, Fonda San Miguel is recognized as one of the finest interior Mexican restaurants in the US. Fresh ingredients and authentic recipes make their classic cuisines so delicious, several of our members named this as one of their top brunch spots.
With southern-inspired cuisine, Jack Allen's Kitchen is well known for their rich history and local bounty. Chef and owner Jack Gilmore opened his restaurant in 2009 as a source of comfort and fun. Visit one of the four locations in the Austin area to try out this Texas gem for yourself.
Another popular favorite, TRIO provides fabulous American food on top of beautiful views of Lady Bird Lake. While the restaurant is currently under construction, you can still dine at their temporary location in the San Jacinto Ballroom and Terrace in the hotel.
This Houston-based company was founded on the structure of quality, from-scratch cooking. The three owners created a unique dining experience within a friendly space so you can call any of their four restaurants your "happy place."
As the sister restaurant to fine dining institution Jeffrey's, Josephine House features an extensive American menu serving locally-sourced products. The stylish, yet casual cottage offers the perfect setting for coffee or cocktails.
With its unique history, Hillside Farmacy is owned by a local pharmacist, and functioned as a drugstore prior to the 70's. This casual restaurant and bar continuously stands as an Austin favorite, offering a seasonal menu and support for local farms.
What began as a South Austin farm house sitting on 23 acres of land, Mattie's is known for its rich history and southern hospitality. Formerly known as "Green Pastures," this delightful icon has served as the setting for many lavish occasions and features tasty worldly cuisines.
Offering some of the best seafood in Austin, Perla's flies in their fresh fish and oysters daily from both coasts, with emphasis on the Gulf of Mexico. The oak-shaded patio and airy dining room provide a comfortable atmosphere for dining and enjoying delicious cocktails.