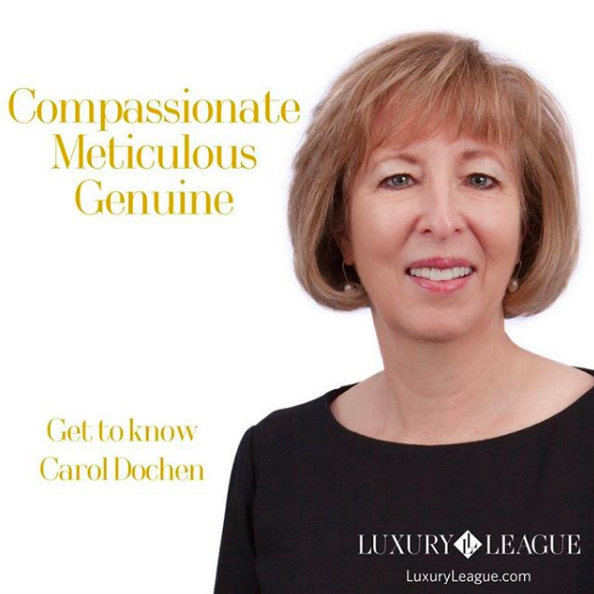 Carol Dochen has achieved a reputation in Austin for providing outstanding real estate services for her clients, based on her knowledge, industry professionalism and integrity.
Carol owns one of Austin's top real estate firms for its size and her personal sales exceed $250 million in the last 15 years.  Platinum Top 50 Realtors has recognized her every year since 2011, when the awards began in Austin. In December 2016, Platinum Top 50 Realtors named her 2017 Broker of the Year. She is also a two time recipient of the Platinum Top 50 Centurion Award for winning five years in a row. Additional accolades include Austin's 5-Star REALTORS®, winner of Austin Woman Magazine's "I Am Austin Woman" 2016 Award for Businesswoman of the Year, and she has been acknowledged for her sales in Texas Monthly Magazine.
Carol was selected to be a 2017 Luxury League member and is a Certified Luxury Home Marketing Specialist. She has previously been a member of Austin's Elite 25, has served as a Director of the Austin Board of Realtors® (ABOR), twice been chair of the Austin Multiple Listing Service (ACTRIS) and was elected as a director of the Texas Association of Realtors®.
In addition to her real estate career, Carol finds time to serve on non-profit and civic boards, including the Northwest Austin Civic Association (NWACA) and Shalom Austin.  For more than 20 years she has donated a portion of every sale to Austin's Habitat for Humanity. And, every Monday night, Carol can be found rehearsing with Tapestry Singers, a local Austin choral group.
Carol grew up in Dallas and graduated from the University of Texas at Austin, where she was a member of Alpha Xi Delta sorority and Longhorn Singers.  She is married to Sandy Dochen, and together, they have two grown children.
To view Carol's listings and contact information click here.