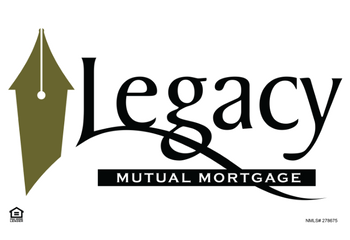 Legacy Mutual Mortgage was established in 2003 in San Antonio, TX and has been serving the home loan needs of homebuyers, real estate professionals and builders with offices throughout Texas, Colorado and Tennessee.  They are backed by Crockett National Bank, and are also able to lend in multiple states including  Alabama, Arizona, California, Florida, Georgia, Indiana, New Mexico, Oklahoma, Pennsylvania, and Washington State.   As a full-service mortgage lender, Legacy Mutual Mortgage has a wide array of products available to help their clients—from conventional, FHA, USDA, and VA loans to construction, rehab and jumbo.
The loan officers at Legacy are dedicated to creating "raving fans" out of their clients and referral partners.  Their teams make it a priority to provide additional value in numerous ways including Tuesday update calls to all parties in the transaction.     At Legacy, professional and personal development is important, and one of the ways they accomplish this is through hosting monthly classes.  Topics vary from how to use social media, what are the latest/greatest business technology tools, understanding credit and its impact on buying a home and also on topics such as business planning, the DISC test and scripting.  In addition to those classes, several of the Legacy Mutual loan officers are also coaches with The CORE Training, Inc. and present to the various associations throughout the country.
Legacy Mutual Mortgage recently interviewed several realtors who they work with. "There were two things that were consistent across the board," Legacy Chief Recruiting Officer, Natalie Jack Penland says. "First, the realtors felt that Legacy makes their work load less, and that when they refer their clients to our loan officers, they know the clients will be taken care of and are in good hands.  Also, realtors felt that working with Legacy means they don't have to babysit the deal. The clients are communicated with, the right steps are happening and the deal will close on time."
Legacy Mutual Mortgage and Platinum Top 50 have a long-standing relationship that began when both enterprises were fresh out of the gate. The two companies realized the intrinsic value each brought to the table. Legacy understands that Realtors want hassle-free, consistent service from a reputable mortgage company with an array of loan options to help their clients, and Platinum Top 50 had established a base of core, top-producing Realtors who were experts in their line of work and leaders in the industry.  When the Luxury League was created to compliment Platinum Top 50, Legacy was proud to become the exclusive lender.   Realtors and clientele should always expect and receive a high level of service, a concierge-style of communication, a variety of loan options to fit their client's needs, and a seamless process…and all of this should be even more apparent within luxury markets.  The partnership between Legacy Mutual Mortgage and the Luxury League brings together an upper echelon of agents, some of the most luxurious properties in the Austin area and a lender that provides the type of service that these agents and their customers 'rave' about.   It's a winning trifecta!